These are my notes from my first CNC build done in 2013: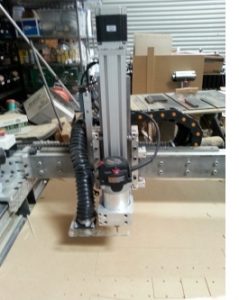 When I decided to finally build my CNC router I took a lot of time to research and plan it out. After looking at all the options I decided to build one from metal as they seemed sturdier and required less maintenance than the MDF wood ones. The wood was tempting though as I saw some that were put together for less than $ 900. But in the end I decided to put out the money and get something that would be solid and last a long time with a lot of use. For those reasons I chose the 2 x 4 CNC router from Fine Line Automation (or FLA). It is built primarily from 80/20 extruded aluminum which is readily available and really strong. This kit is by no means for everyone as it is a little on the expensive side of CNC router kits.
Here is a list of what I ordered from FineLineAutomation:
2′ x 4′ CNC Router Motor Mount Size: NEMA 34
Porter Cable 690/892 Spindle Mount
Cable Chain Kit CNC Machine: 2′ x 4′ CNC Router
4-Axis NEMA 34 DIY Electronics Kit
UC100 USB Motion Control Board
The kit was complete and very well thought out. It was almost over engineered in places to be solid and strong. Every nut, bolt and piece was clearly labelled and it all went right together. I would say the total build of the base CNC machine took me about 10 hours. The kit consisted of 80/20 aluminum extrusion pieces which had been drilled and tapped where needed, custom aluminum plates, heavy steel running plates and racks for the gears and all the nuts, bolts and even a tube of lock-tite.
The only real issue I had is the process of working with FLA. The website says if it's listed there it is in-stock and will ship the next business day. That was clearly not the case. I ordered it on a Saturday and it shipped on the next Wednesday. I also saw some indication from other peoples posts that communication may also be an issue and indeed it has been. They have a phone number but it just goes to voice mail and I never got any responses from messages left there. They have an email and that seems to get very poor response. I asked questions three times before I purchased trying to clarify things. Finally after the third one I got an email response but it only addressed a portion of my questions. The same spotty communication continued as I had questions and issues. After numerous emails I'd get a response and it seemed to only address a portion of my questions. It seems as though FLA is a one man show and his focus is on engineering and not on delivering great customer service.
But like I said, I suspected that going into this and that is what I got. The kit however did not disappoint. It went together well and was of sound design. I only had a few little things come up that I had to deal with. They were:
The kit was missing the Z-axis bearing block. Nate from FLA sent me one overnight.
The X-axis plate said I needed 18 bolts but it actually needed 20. Those were easy to come up with and again, FLA sent me replacements.
The X-Axis gantry had the holes drilled in the wrong place. They should have been 3/4″ out more towards the ends. So it wouldn't mount on the plates. Fortunately I have the tools around to fix it. I removed the plates, drilled and tapped 8 new mounting holes and it reassembled perfectly.
One of my bearings was bad out of the box. It wouldn't run smooth at all. I found a replacement at my local hardware store.
Other unexpected things:
Shipping of the kit took several days contrary to what was stated on the website.
The kit arrived but the motors and electronics were not in the shipment. The invoice in the box had written "Drop Shipped" next to them. After several calls and emails I found out this portion was shipped 16 days after I placed the order.
There was no documentation in the order. I was able to put most of the kit together using what I found on their website and public YouTube videos. Again after several calls and emails, FLA sent me a link to a full assembly video. I had to take a few pieces apart and adjust them as a result. The video was very clear and step by step. I just wish I would have had that when I got the kit.
I also ordered cable track which was a new product for FLA. Again after emails I got access to some unedited video assembly instructions and was able to get those installed.
The electronics also had no instructions. They had a card directing you to a web page but the instructions there included parts that were not part of the kit. I found info on Google searches for most of the components. Again I wrote emails and called. I got a call back and was able to ask a few more specific questions on how the pieces interacted. Once answered I was able to get it put together and working. I would not recommend the unassembled electronic kits for the electronics novice with no experience.
Once it was all together I played with getting Mach3 setup. I finally sent another email asking if they had anything to help. FLA sent me a Mach3 config file and with a little changing of the parameters it worked perfectly and I was off and cutting.
In spite of these issues, I can highly recommend this kit. It is amazingly strong and goes together well. I am hopeful that FLA will figure out the customer service part of their business and become more responsive. It shouldn't take a customer that much work and time to get simple answers and basic documentation. Also if they can't ship the same day they should remove that statement from their website.
Once the kit is assembled then you will need to figure out all the other stuff. That is what the rest of this write-up is about. This is an expensive endeavor. Buying the kit and the electronics is only a part of what you'll need. I wanted to build the complete CNC with all the bells and whistles I need to use it effectively. So for my machine I upgraded from the NEMA 23 motors to the NEMA 34 motors which are much stronger. I also decided to use the Porter Cable 892 Router which is a strong 2 1/2 H.P. router. These decisions added more cost to the basic setup.
I also needed to build a base stand for the table. Since the CNC was made of 80/20 I decided to be consistent so I made the base out of the same material. I also wanted to build a monitor and keyboard stand on it so that also required more 80/20 material and parts. I also had to figure out how to make my work surface so I looked at a lot of other systems out there trying to find the best options. Below are my results.
Limit and e-Stop Switches
From Amazon I purchased an eStop button and six limit switches (2 for each axis). These all took a little thought but they went in easily. I had to buy some aluminum strapping and some nuts and bolts but all these were available at a local hardware store. I already had the wire already laying around. I soldered solid terminals on the wire ends and I joined the switches in parallel for each axis. So in the end I had four sets of wires, one each for the X, Y and Z axis and one for the eStop button.
Wheel Base
I built my base from pieces ordered from 80/20. If you do this be prepared for sticker shock. The 80/20 pieces are a bit expensive. They have a great catalog on their website and you can order almost everything from their Amazon store. I got all the aluminum and connections from there. I bought some nice wheels from Harbor Freight and welded up some cups to join the wheels with the base. I also made wheel chocks as I couldn't find any locking wheels of the right size at Harbor Freight. I also built a shelf on the base to hold all the other equipment. Here is a list of the items I had to order to build it:
4 – 1502-LS 24″ – Legs
2 – 1515-LS 60″ – Bottom Shelf Sides – cut to 54″
4 – 1515-LS 48″ – Bottom Shelf – cut to 44″
4 – 4351 5-Hole 90 Degree Joining Plate – Outside 2 Bottom Shelves
4 – 4340 5-Hole Tee Joining Plate – Middle 2 Bottom Shelves
2 – 3320 Bolt Kit 25 pk
December 2014 Update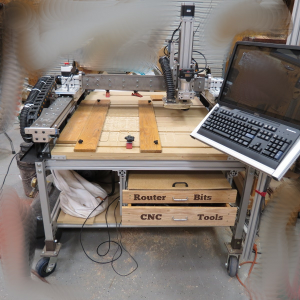 I thought I'd update this a little with where I'm at now. I have been using this now for just under a year. Everything has been working well and I've been learning little by little. Here are a few of the big things:
The Achile's Heel of the entire CNC is the Vertical drive (Z-drive). If you accidentally plunge it too far down it will mess up the coupler connection to the motor. To fix it you have to remove the set screw, re-fit the drive screw up into the coupler and then re-install the set screw. I've had to do this about three times now and it's a real pain. Here is picture showing that part:
I am still struggling trying to find the best method of clamping down my work. This varies a lot depending upon the piece. I've tried a lot of different ways and had a lot of failures. Now I am using T-Tracks with some homemade adjustment pieces. These seem to work well in most cases. Click here to see more on my clamping setups.
I made a vacume attachment out of plastic (cut on the CNC). This is critical, without it you get a lot of sawdust. With it working properly you get almost no sawdust spread around during cutting. I am planning on making a new one soon that will occupy less space. I also have to watch it when cutting some things. For example, when cutting MDF when slivers are chipped out they tend to clog up the vacuum. Likewise when cutting wood with vinyl the sticky vinyl pieces tend to clog up the vacuum attachment. Click here to see more on my vacuum attachment.
I've played with several different Carving techniques. I've outlined some of those which you can see by clicking here.

Note:

I made a bunch of major updates to my CNC in 2016 which you can read about by clicking here.